Looking for a book or eBook from the library?
Whether you're looking for a good mystery, some serious non fiction or fun popular fiction, we've got your genre.
Discover Your Next Good Read
We are back open to the public and doing everything to keep you and your family safe during this strange and concerning time. The Library may look a little different, we have added a fresh coat of paint to the interior walls and added some wonderful books and fun things… Continue Reading WE ARE BACK OPEN TO THE PUBLIC!
Check out our card catalog for our newest additions. NEW S.T.E.M bags are just what stay at home parents need in this ever changing and challenging time. Each bag includes a book and hands on activities such as games, puzzles etc. Each bag is a different topic perfect for ages… Continue Reading NEW S.T.E.M GRAB BAGS FOR CHECK OUT!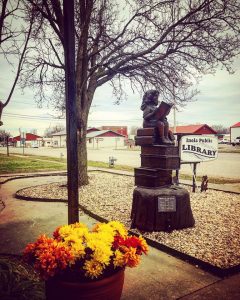 Monday, Wed, Friday: 10 am to 4:30 pm
Tuesday, Thursday: Noon to 7:00 pm
Closed Saturdays and Sundays