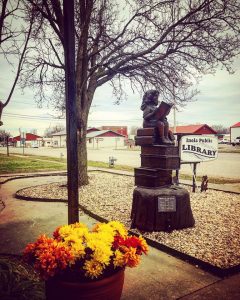 Our Staff
Director: Monica Clark
 Librarian: Aubrey Flynn
Our Mission Statement
The Inola Public Library serves community residents of all ages by providing access to materials and services which meet their informational, educational, cultural, and recreational needs.
Programming Philosophy & Guidelines
Public programs, presentations, display and bulletin boards coordinated by the staff for the benefit of the public.
The staff of the Inola Public Library presents programs which provide intellectual stimulation, cultural enrichment, and expand artistic horizons. Programs should be consistent with Inola Public Library's mission statement. Participants are not placed in competition with one another in any way for the reading of books. Library coordinated programs are free of admission charge and open to the public.
Purposes:
To stimulate interest in books, promote reading and encourage adults and children to become regular Library users.
To provide programs to supplement those of other community agencies and/or to provide opportunities not available elsewhere in the community served.
To provide information on a variety of subjects which can best be communicated in a program format.
To promote community awareness of Library materials, resources and services.
To respond to the interests and requests of the people within the service area.
To produce a positive Library experience for individuals.
To bring people to the library who would not normally access the Library for "traditional" Library services.
A Brief History of the Library
In 1967, Inola's Extension Homemakers Club decided the community needed a new library. The club appointed a Library Committee in May of 1967, consisting of Mrs. Win (Kay) Ingersoll, Mrs. Bill Krause, Mrs. Henry Powers, Mrs. L.D. (Willa) Littlefield, Jr., Mrs. Clyde Stout, Mrs. Herb Stout and Mrs. Bob Ward. The Town Board gave the club permission to build the library on town property.
Long time Inolan Dorothy Turner was hired as the Library Director in 1983. She ran the library alone.
In 1989, an addition was completed, funded through a grant. The Library Board consisted of six members: Kay Ingersoll, Willa Littlefield, Geneva Krause, Janet Kight, Marge Abeling, and T.L. Riggs.
In 1996 Gail (Oquin) Whitworth was elected to replace Janet Kight on the Library Board. In March, 2000, Dorothy Turner retired after 19 years as Director. Since that time the library has been staffed by many dedicated employees. Due to the generosity of Kay & Winn Ingersoll, the library was given a new home across the street at its current location, 15 N. Broadway Ave. Kay & Winn contributed greatly to this by purchasing and renovating the building. The library currently has over 14,000 titles in its collection, now viewable on our online catalog.
Our Foundation Board:
Wendy Ingersoll Keener
Luther Martin
Gertrude Riddle
Sheila Bond